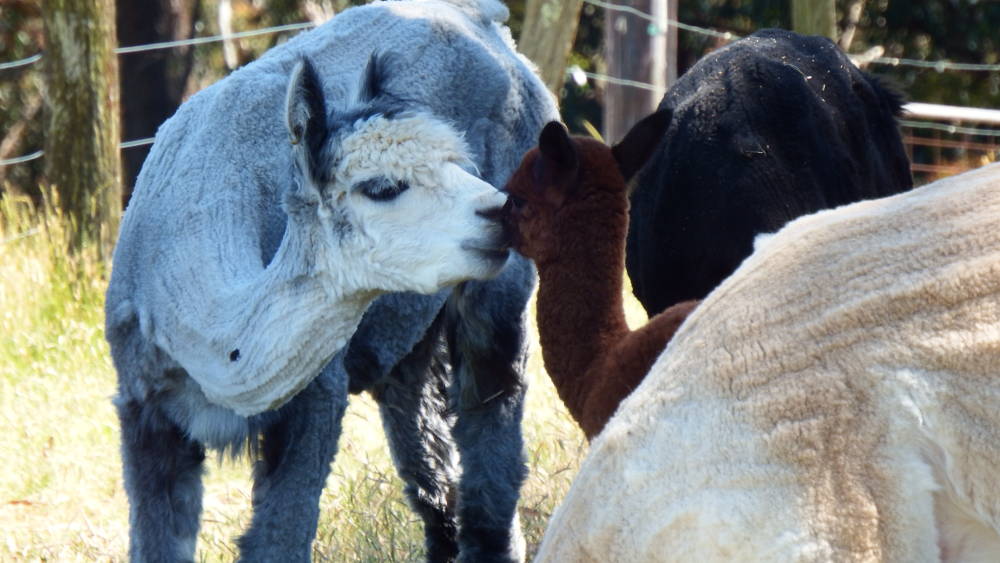 EN - The alpaca is an animal from South America. It's a member of the Camelid family. Its relatives are the camel, llama, vicuña and guanaco. The alpaca doesn't have a hump like the camel, and it's smaller than the llama. The alpaca has beautiful fleece. The fleece has many different colours, lengths and qualities. The alpaca can protect other animals, for example sheep, cows and goats, from danger.
NO - Alpakkaen er et dyr fra sør amerika. Den tilhører kamelid slekten. Dens slektninger er kamelen, llamaen, vikunjaen og guanakoen. Alpakkaen har ingen pukkel som kamelen, og er mindre enn llamaen. Alpakkaen har en vidundelig ull. Ullen har mange forskjellige farger, lengder og kvaliteter. Alpakkaen kan beskytte andre dyr, for eksempel, sauer, kuer og gjeter, fra fare.
DE - Das Alpaka ist ein Tier aus Südamerika und gehört zu den Kameliden. Seine Verwandten sind das Kamel, Llama, Vikunja und Guanaco. Das Alpaka hat keinen Höcker wie das Kamel, und ist kleiner als das Llama. Das Alpaka hat schöne Wolle in vielen verschiedene Farben, Längen und Qualitäten. Das Alpaka kann andere Tiere wie Schafe, Kühe und Ziegen vor Gefahren schützen.