The last time we travelled to Australia with Norwegian airlines, we waited 15 hours at the airport in Bangkok for our connection.
As we had flown in and out with two different budget airlines, there was no alliance to offer us hassle-free transit - so we went through passport control, picked up our bags, cleared customs, and waited in the departure hall for 15 hours to check in again.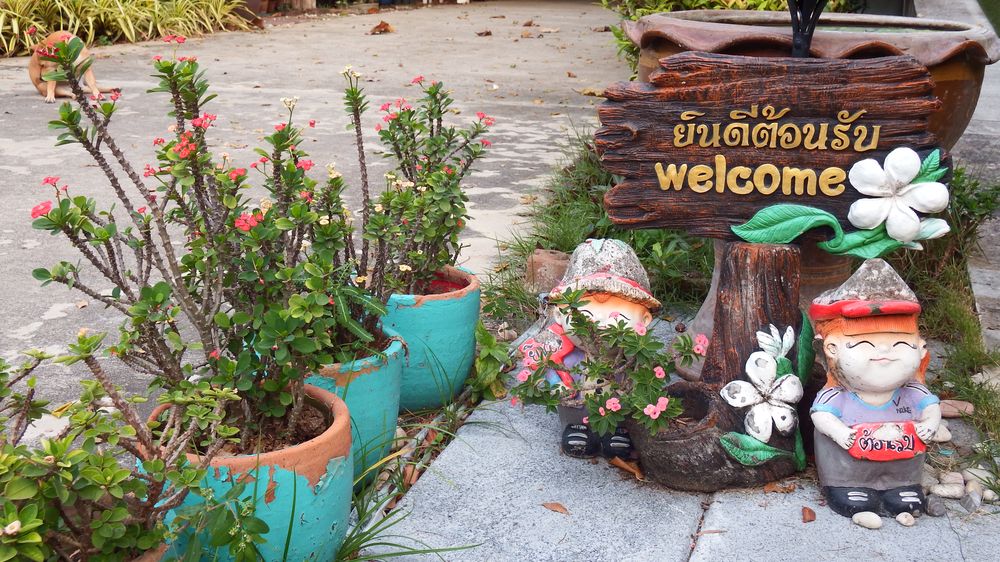 This time round, a place to stay outside Bangkok airport seemed more appealing than a long and uncomfortable wait. There were dozens of hotels on sale with very cheap rates. But travel is a luxury and a way of experiencing something unique, authentic and reflective of the country being visited, in an environment where you can connect with the local people, culture and nature.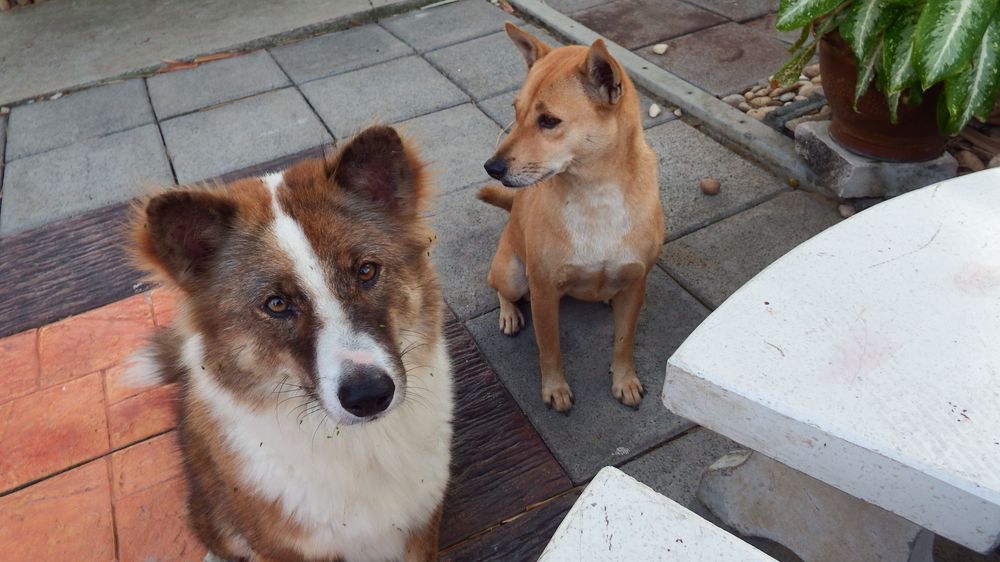 About 20 minutes from Bangkok Suvarnambhumi airport is Ban Ing Suan, an oasis surrounded by the hustle and bustle of Bangkok's 8 + million population. I was picked up at the airport by the husband of my host and driven to their guesthouse located in the eastern suburbs.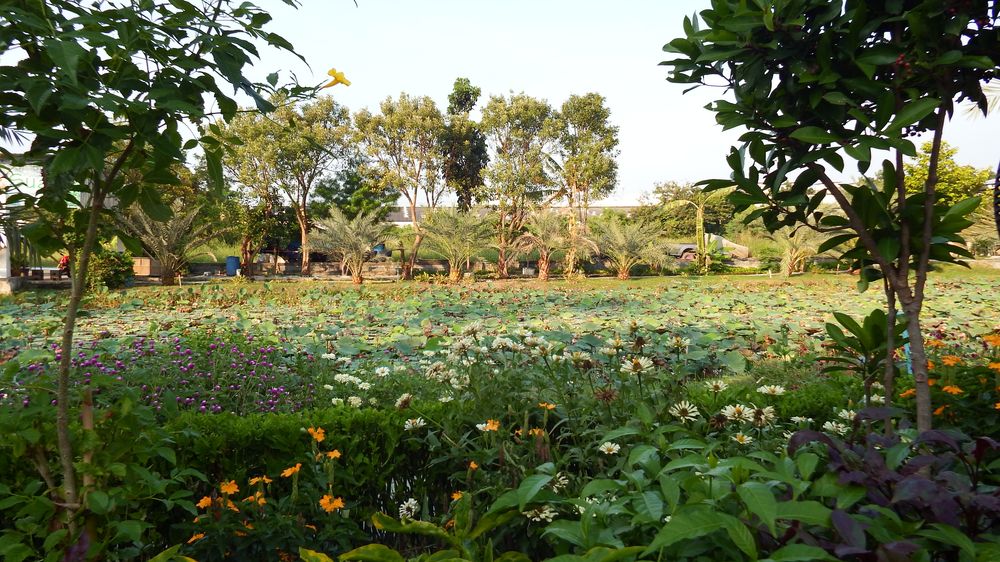 Having just arrived from tiny Norway, it was quite a contrast to be driven through Bangkok's early morning rush hour traffic. Life passed by in the form of extravagant ornamental statues and temples, run down monsoon stained highrises, luxury shopping centres with big name western brands, street stalls and hawkers lining the pavements, piles of garbage next to luxuriant tropical plants and massive fig trees, power poles with entangled hanging cable spaghetti, truck bodies piled up on top of each other, fancy huge resorts with monster entrances, utility trucks with tired workers in the back being ferried to work, speedy scooter riders dodging other speedy scooter riders, and a tiny lane on the side of the road professing to be the 'happy and healthy bike way' (it looked like a sure way of getting flattened).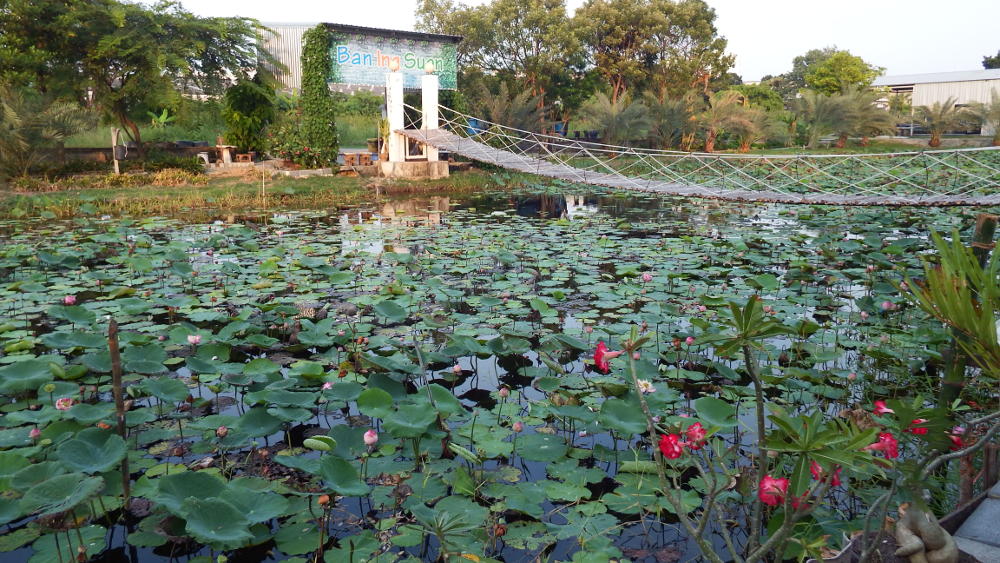 On the Internet the guesthouse had seemed as though it was situated out in the calm and quiet of the countryside, but this is where the surprise lay. The Ban Ing Suan guesthouse with its ponds and lush greenery lies only some hundred metres away from the highway, hidden amongst factory buildings and other private residences. Originally belonging to Malee's (my host) grandfather, it had been farmed as fish ponds. When Malee took over she transformed the ponds and surrounding land into a green ornamental and edible paradise - today an ongoing labour of love - and a natural habitat for local bird and wildlife, who come in the morning and evening to feed.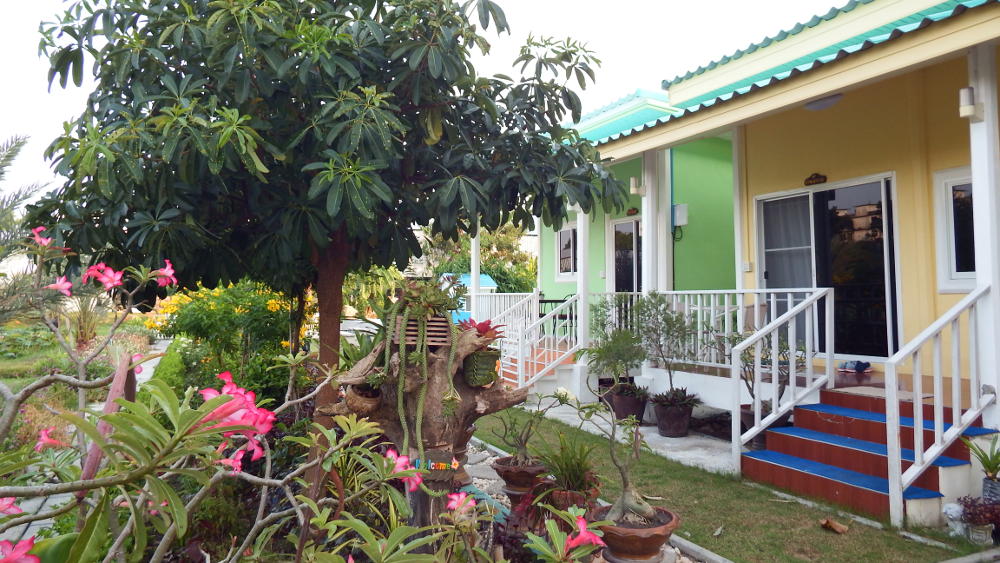 Having lived in the tropics in northern Australia for more than five years, some of what I saw in the garden was very familiar to me. Like a good friend bringing back happy memories. The colours, smells and textures generous and abundant. Certain ecology very much Thai specific. And although the air temp was not as high or humid as I knew Bangkok could be, it was a simple pleasure to feel warm again.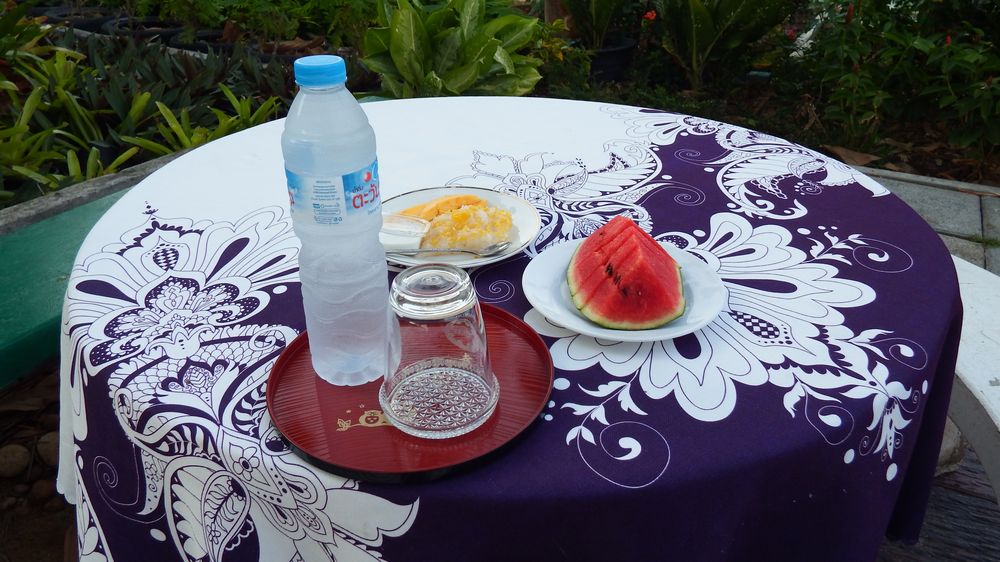 The first task was to greet Malee, my very welcoming and giving host, who had prepared a vegan breakfast for me in her small guesthouse kitchen. It was my first experience with local Thai hospitality and I got way more than I had expected. Breakfast consisted of Thai style vegetable fried rice with salad and tofu, along with tropical mango and pineapple fruits and cool drinks. All of it delicious. I tried to eat everything, but after having been fed on the plane, I had to take the rest to my roomy, comfortable cabin, and sleep off the time zone change.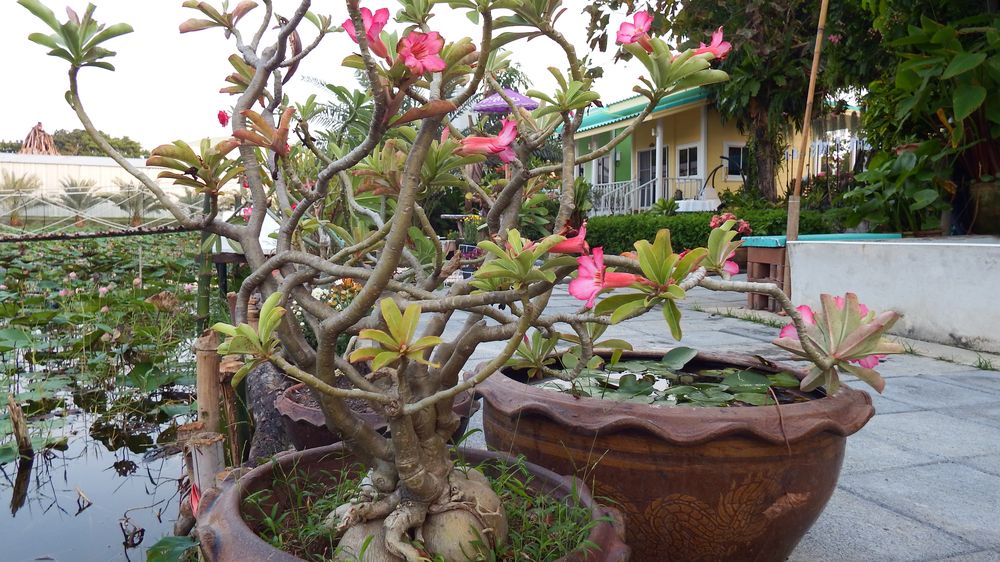 When I woke it was late afternoon, and the perfect time to walk around the property and discover the gardens. Malee had prepared a light dinner snack for me in the form of sticky rice and mango, along with some watermelon. (Eating is obviously very important in Thailand!) We talked about Malee's garden, her Buddhist philosophy and its reflection everywhere in Ban Ing Suan. She practices a form of Buddhism where self-realisation and enlightenment are possible through every day actions, such as gardening, working and being active, rather than sitting still and meditating. Those actions actually a dynamic performance of meditation. Something she learns through study with a monk, rather than at the local temple.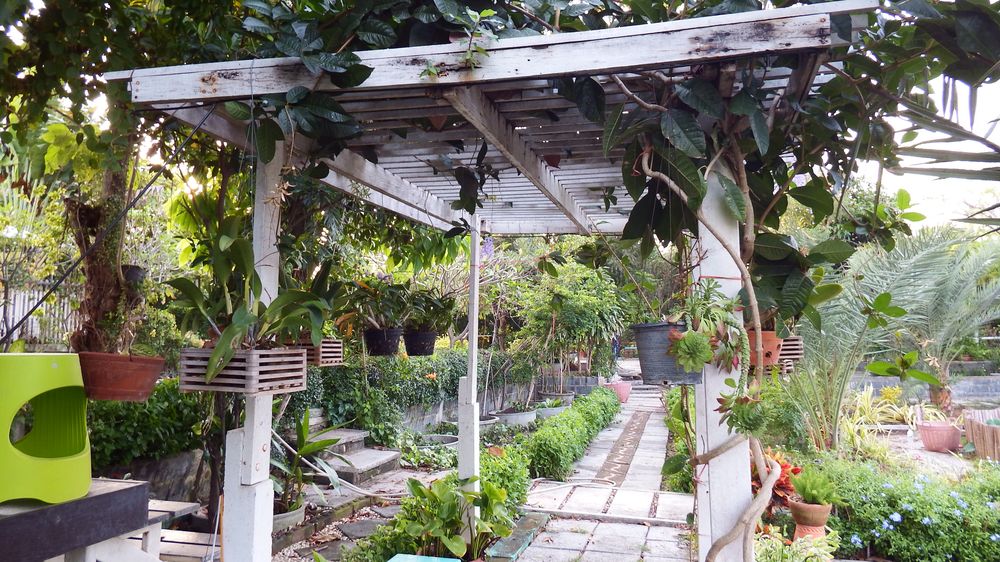 Walking through the garden and looking at Malee's attention to detail and obvious passion for nature, was like unravelling a beautiful gift slowly and purposefully. While I had my camera with me and was intent on taking photos, I told myself to first see with my senses before engaging with the camera. I've often read that hobby photographers can get too caught up in pointing, clicking and moving on, which is a completely different experience to simply being present and seeing first. What the camera sees, and what our mind's eye sees, can be two different things, although complementary when put together. I think that's one of the purposes of Malee's garden.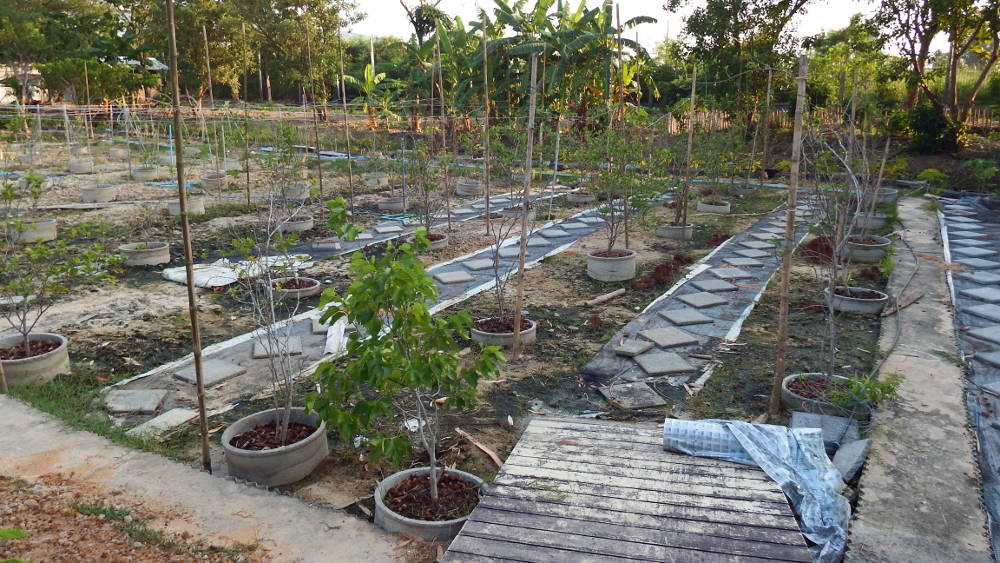 This is also what made staying at Ban Ing Suan such a pleasurable experience. It's purpose as a place of refuge and peace, somewhere where you can forget about time and the outside world, and engage with nature and the local Thai - even though briefly, as was my case. It's small moments like these that feel pure in their exchange, especially when you know that the pulse of 'fast-paced city life' is beating only some hundred metres away. If this is Malee's goal with Ban Ing Suan, then she has certainly succeeded.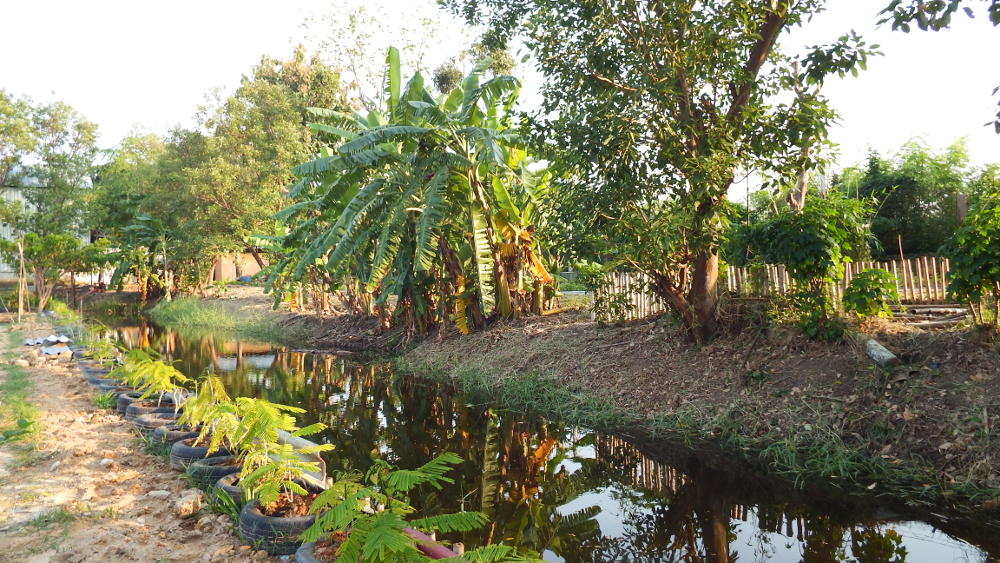 The first time I visited Thailand was more than twenty-five years ago. I was a tourist and travelling with family. At the time I had been drawn to Thai art, architecture and Muay Thai boxing, but due to illness, I ended up confined to my hotel in central Bangkok. Today I'm still attracted by the art, architecture and boxing, but they're not the only things that draw or attract me to Thailand. Having learned a small part of traditional Thai medicine, I'm keen to learn a lot more, especially more about the traditional Thai way of thinking, seeing and being. Something that is very much on display in the gardens at Ban Ing Suan.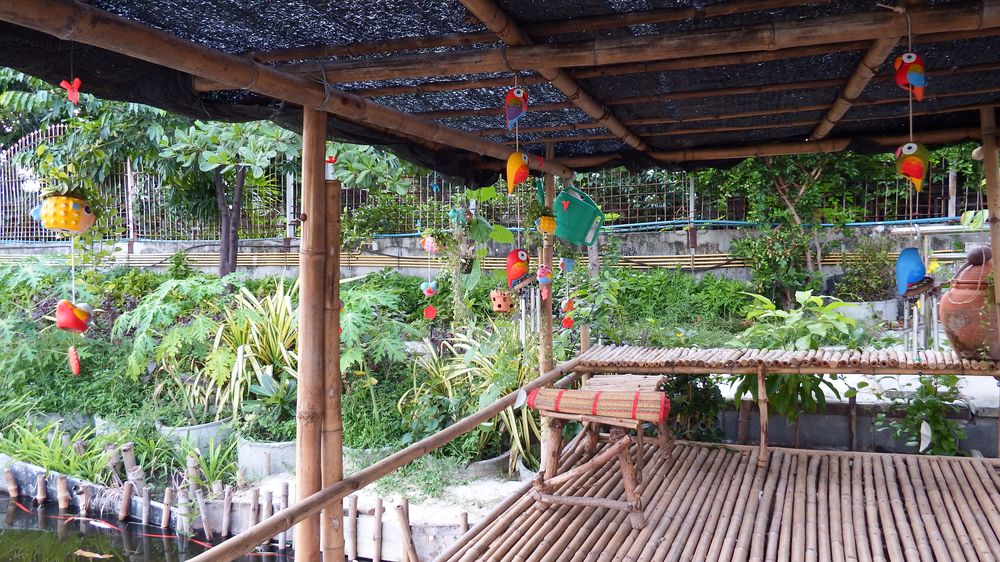 Discovering the uniqueness of the nature wherever I am is also always a priority. A part of that is being invited into the world of others, to see how they interpret and celebrate their own relationship with nature through manifestations such as gardens, oases and more. Exactly as Malee described her active meditation as her path to self-realisation, places like Ban Ing Suan are reflections and mirrors for others on similar paths. Reflections of what stage Malee is on her journey, and how creative and intuitive that journey is. Mirrors for us guests to see where we are ourselves. This makes Ban Ing Suan much more than just a stopover.