Who's behind Happy Bee Retreat? :)
WE are two vegans who live in probably one of the least vegan countries in Northern Europe. We know how difficult it can be finding a vegan-friendly place to eat, let alone stay in. Which is why we decided to open our door to vegans or vegan-friendly travellers in Norway.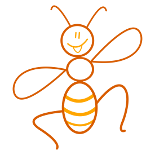 We also believe central Norway is one of Norway's best kept secrets. Many tourists head for the bucket list destinations of Northern Norway, Lofoten, Bergen, Oslo and Fjord Norway. But there's more to Norway than these destinations.
Central Norway's beauty is second to none, and its history, culture, lifestyle and scenery are an inseparable part of the Norwegian soul.
Stay with us and let us show you a part of Norway we call home! If you'd like to know more about how we found our home in Landåsbygda, read this post.
Hildegunn and Jasmin
We are the co-owners and co-founders of Happy Bee Retreat. We got to know each other through our shared love of nature, hiking and being outdoors.
We've travelled, camped, biked and hiked in Norway, Germany and Australia together, and have shared many memorable adventures.
We hope through our love of all things natural, you'll also recognise the value of reconnecting with mother nature and making 'her' a permanent part of your life.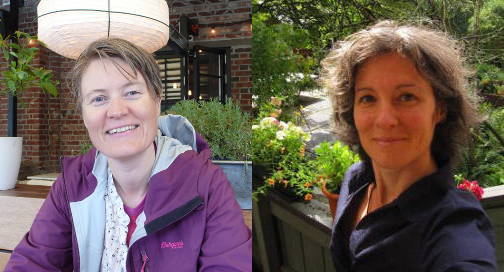 Lily and Leo
Lily and Leo are Happy Bee Retreat's resident cats. The brother and sister team are eager to meet you and make you feel welcome. They certainly know a thing or two about travelling and feeling at home – having moved from Germany to Norway themselves. Lily and Leo speak German, English, Norwegian and are always partial to fresh fish, a fat mouse or biscuit.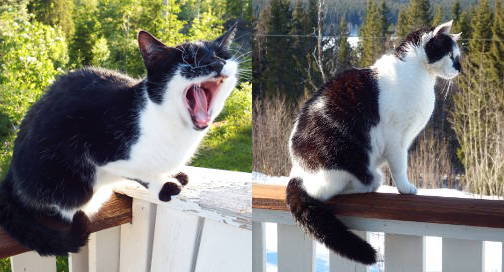 About Happy Bee Retreat
The Happy Bee Retreat concept started while Jasmin was living a bush lifestyle in the Northern Territory, Australia. When she left Australia to go and work in Freiburg, Germany and Basel, Switzerland, she looked for ways to return back to the basic and essential life she had enjoyed down under.
In 2013, Jasmin moved to beautiful Norway to be with Hildegunn. At first we lived together in the small city of Stavanger on the west coast, but soon agreed that a life in the city was not for us. In 2015 we found our Happy Bee Retreat in Landåsbygda, central Norway, a wooden house surrounded by stunning forest, lake and mountain landscape. It was here that we decided to dedicate ourselves to redeveloping the Happy Bee Retreat concept.
Being from two different parts of the world, we also naturally wondered if we could find an economical way to spend time in both Norway and Australia. We headed to Tasmania in 2018 to see if we could make this dream a reality, and we loved it so much that we travelled back to Tassie in 2019.
Today we're still in Northern Tasmania, enjoying housesitting and farmsitting assignments, as well as WWOOFing and other alternative arrangements. Our goal to continue our Happy Bee Retreat concept has progressed. We're still looking for a place where guests, friends and family can come to relax, reflect and simply be in nature. Whether this is in Tasmania or Norway, or both, we will see.
Factors important in the setup of our Happy Bee Retreat, mark II:
Nature sanctuary or temple dedicated to mother earth
Allergy-free living (no WIFI, etc)
Complete immersion in nature and relative self-sufficiency
Land use for flora, fauna and fungi regeneration
Off-grid setup with renewable energies (wind, hydro, solar, wood heating, gas, thermal)
Tiny home setup with small carbon footprint (reused and upcycled materials)
Fresh water and wood supply (taking only what we need and giving back, following holistic practices)
Fresh food supply (forest garden, natural farming, regenerative agriculture, cellar storage)
Traditional medicine treatment area, including bush sauna, outdoor hot tub and shower
Nature retreats for recovery and regeneration of body-mind-spirit
Factors essential in the organisation of a Happy Bee Retreat on-site community:
Sharing of intellectual, emotional, social and financial resources
Reduction of 'things'
Interests, hobbies and skills that provide an individual and collective income
Work as meditation and a way to express intuition, creativity and originality
Support network for all who live on-site
Watch this space… we're currently on the lookout for our Happy Bee Retreat, mark II.